Well, after a somewhat-solid Round 1, we're off to Round 2. I'll save you any unpleasing images of Zombies wearing Yankees apparel and just get straight to the whoopin'! I mean, Gint-a-Cuffing!
Pack 5:
Carlos Santana
Cecil Fielder
Bert "Be Home" Blyleven
Ted Williams
Manny Machado
Palaces and Strongholds: Neuschwansten Castle +3
Brandon Phillips SP +2
Heavy Hangs the Head: Constantine +3
Pack Total: +8
Running Box Total: +55
So, all in all not horrible. Still no Angels, an no Favorite Players. This is a little disheartening. But a solid showing!
Pack 6: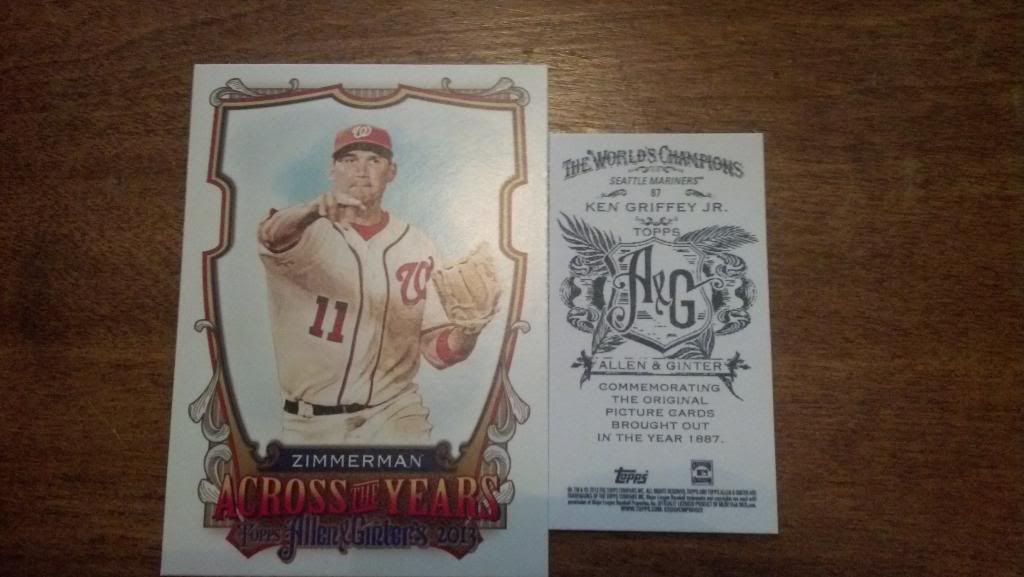 Will Middlebrooks
Starlin Castro
Jay Bruce
Bob Feller
Doug Fister
Carlos Gonzalez
Across the Years: Jordan Zimmerman +2
A&G Back Mini: Ken Griffey Jr. +2
Pack Total: +4
Running Box Total: +59
I think this is our worst pack thus far. Next to nothing. Griffey saved the pack from being more than simply mundane. Good work, Ken!
Pack 7:
Ernie Banks
Jim Johnson
Will Middlebrooks
Starlin Castro
Jay Bruce
Civilizations of Ages Past: Indus River Valley +3
Wade Miley SP: +2
Black Bordered Mini: Michael Young +3
Pack Total: +8
Running Box Total: +67
BUH! Wait a minute... didn't I get THREE of those base cards in Pack 6? WTF! None of them are Cardinals, Favorite Players, OR Yasiel Puig. This is bullcrap. I guess I should be thankful that none of them were Yankees.
Pack 8:
Brandon Morrow
Amelia Boone
Denard Span
Penny Marshal +1
Byamba
One Little Corner: Scattered Disc +3
Henry Rollins SP +2
Regular Mini: Paco Rodriguez
Pack Total: +6
Running Box Total: +73
OH BOY! What a stunning pack. What a lackluster round. +73 is respectable after 8 packs, however, so we've got some momentum going for us. Lets just hope we can keep it up. I still have managed to dodge every favorite player and every Cardinal. This is amazing.
But lets keep it in the family.
-GG